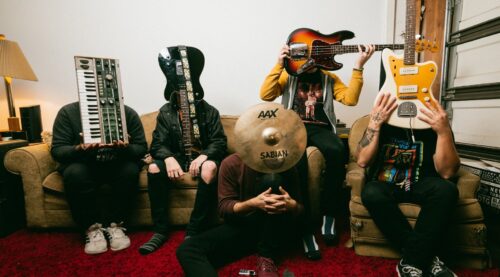 Earlier this August, we caught up with California-based instrumental post rock conglomerate, inthebackground, who is premiering a stunning new record for 2020, entitled The Dash Between Years. We had the pleasure of speaking with all five members, who were nice enough to give us perspective on how mental health transcends directly into their music.
You can read the full interview below.
___________________________
inthebackground is: 
Chanta Chuong – guitar, keys
Dillon Droke – guitar, keys
Stephen Taylor – drums, percussion
Jason Crook – guitar
Steen Kevett-Lopez – bass
DUSTY SOUL: Let's first touch base on what's going on with your new music. What does In Taxis, your new single, encompass? What was going on in your mind when that piece came together?
DILLON: It just kind of came out lol we had no idea when the single was going to actually be live on streaming channels. In Taxis is definitely one of our oldest songs. I can remember Chanta showing it to me back when I was in high school. Glad to see this one finally recorded and released.
JASON: For me, In Taxis, encompasses movement even when uncomfortable. I came into the band much later but having heard this song for years beforehand, gave me somewhat of an idea of where to write, in a mix of two other guitarists. Lots of the space had been filled already so finding my appropriate niche in the song was the hardest part.
STEEN: In Taxis is a sort of feel good song with some interesting parts. Chanta will tell you his cinematic storyline, but to me it's always been a fun one to play live, a simple but powerful song with lots of rest and tight breaks. Being this song is so old for the band, this current line-up took a fresh stab at it to revive it a bit. The bridge (tapping parts) have always been there, but as a rhythm section we took that part and re-did it some, added some new layering chords and took away the drums for a really cool effect.
STEPHEN: When I first had to learn this song, I was so captivated by the movement of this song. The rising, the falling, it felt so cinematic. I was naturally curious to what else was behind this song and asked Chanta what it was about one day. He went on to describe this grand adventure tale about someone abandoning their 9 to 5 routine job one morning for a random taxi ride into the unknown (or something like that). Chanta will elaborate more I'm sure, but that always stuck with me and the song always reminds me of the exhilaration of taking the road less traveled every once in a while. I can't help but think about all the shows this song was played at, and all the minute different versions this went through. This song had a lot of time to evolve over the years with different members entering and leaving and I believe this final cut has many of the best performances throughout the years within it.
CHANTA: In Taxis is an anthem about triumph and celebration of the self. It's supposed to uplift your spirits from a heavy and dark place. I was listening to a lot of Dance Gavin Dance and Minus the Bear at the time while one of my classmates from community college was sharing ambient shoegaze music with me. I wrote this song about nine years ago, I was lost and had no concrete direction in life. I was homesick and pretty confused about my feelings and financial well-being. I like to think that this song helped guide my life to the path that I'm on now. I would tell you the full tale of In Taxis, but I think Stephen pretty much hit the nail on the head of a "long story short" version of my spun yarn.
You can stream In Taxis below.
DUSTY SOUL: With the release of your recent single, In Taxis, you also have a full length, entitled The Dash Between Years, coming out this month. Do you have a personal favorite off of the record aside from this single? What makes it stand out among the six tracks?
CHANTA: Each track off of the album is a gem of its own. In a recent interview with Alex from The New Fury and Brandon from Audio Addiction, I had answered that my favorites were Circle City (the album's opener) and Letters to the Bay. Those two songs have such pristine textures. Some of my favorite keyboard work is on those two tracks. If I had to choose another besides those two, I think I'd have to go with That's That (no one really mentioned it in the last two interviews). That's That is filled with a huge jolt of energy and certainly knows how to keep your foot loose. I think the song in particular would really sit well with fans of Dance Gavin Dance, Strawberry Girls, TTNG, CHON, or anyone that digs fusion style fingerpicking guitar work.
DILLON: Probably Between Two States. I think it's a nice bridge between the two halves of the record.
STEEN: My favorite track is Between Two States. It feels like a mature song by us in that it has all the elements of old inthebackground with a mix of new members speaking their parts out loud. I really dig the ending of this one too, probably one of the cooler effects on the album is the bass delay ending, recorded using an ancient analog tape delay.
STEPHEN: Budapest was always that song in our set where I could look at my bandmates and expect absolute destruction to close out a show. But more seriously this song has so many elements to it and is insanely fun to play on drums.
JASON: I think my favorite track from the album would have to be Budapest. I'm a fan of a lot going on but still having that feeling of cohesiveness. Dillon starts off the song with a grooving riff and from there we were able to build and add other rhythms to highlight. It's a big song with lots of colorful avenues and it's very fun to play. I think it's the perfect closing song for the album.
DUSTY SOUL: Instrumental music may finally be back on the rise with larger groups creating more content than ever, and a huge boost of interest with lofi streaming channels on YouTube. Do you think electronic music and bedroom produced songs with no vocals have the opportunity to bring a new form of love toward instrumental tracks within the umbrella of rock?
JASON: Oh totally. I think instrumental music in general is one of the best styles of music to get into purely because it doesn't have lyrics. Everything feels more open and open to interpretation and "titles" for instrumental tracks are enough to just barely guide you into the direction of the original song's intention and meaning but leaves it up to the listener to decide how they interpret the rest.
DILLON: I think chill wave music channels are actually doing a lot for instrumental music, as people become more attached to listening to something without words while they are trying to do something like work or study.
STEEN: Great point. I too have noticed this shift in music where people are enjoying the "underground" again. I think all of us as humans get burnt out by the usual, and hearing something fresh or even just a revisited style with modern voicing is the power of music. Everything comes back around, and I'm not sure I'd be productive if lofi hip hop beats didn't exist.
STEPHEN: I believe so. I think at this point everything under the sun has been created. With that said, the expression varies between every musician which makes discovering all these new styles so interesting. Whether it's lo fi hip hop, jazz, or rock instrumental music, everything pulls from one another in some fashion, and gets a revival in a sense under a new look.
CHANTA: Absolutely. I think instrumental music is skyrocketing towards great commercial success. I find it funny because most people don't think about how instrumental music is typically implemented, which is in the background of most things. Whether it be in television, film, podcasts, commercials, what have you. Ever since I discovered Tycho and Bonobo, I've been listening to downtempo electronica music a lot. I then rediscovered my love for the band The Cinematic Orchestra, a band of the very same genre and nu jazz. In relation to rock music, you have bands like King Gizzard and The Lizard Wizard, Broken Social Scene, Night Verses, American Football (and more) intertwining traditional rock songwriting with instrumental or post rock passages. The possibilities are endless.
DUSTY SOUL: Being susceptible to such a wide range of music now within the world of Spotify, and many other streaming platforms, if you weren't writing in this particular style, where do you think your influences would bring you genre-wise?
CHANTA: Probably electronic music, with a fusion and nu jazz twist.
STEEN: Hmm, let's go with casino lounge music.
STEPHEN: Give me the funk. Love me some breakbeats.
JASON: I would love to be in a lo fi hip hop/r&b type group. I love the note and chord choices in these songs and the calmness it gives me. Something like Tom Misch/ Dilla type sounds.
DILLON: It's hard to say. I think I'd still be doing this.
DUSTY SOUL: What is the California scene like in Riverside, where your band is located? Are there a lot of other instrumental groups, or are you the diamond in the rough of hardcore and pop punk bands?
STEEN: California alone has a lot to offer in terms of music, but every place is a little different. We're on the outskirts of Los Angeles so we already live in our own little world over here compared to what they do out there. Our music scene is tight-knit and we have a lot of DIY venues and establishments that help the music live on. Most of my friends are musicians so it goes to show just how much of us are out here! There aren't many bands in our niche though, most people do have singers and find instrumental bands to be a little odd. But we kind of like that.
DILLON: COVID.
STEPHEN: Riverside up until the pandemic was a busy music scene. From countless underground shows, to the downtown area, Riverside has always been a haven for art in general, and I've always been proud to know so many creatives that are thriving in the Inland Empire. Even though we are more on the outskirts of the LA scene, there's still a huge range of musicians that work or perform out here that have constantly provided me with inspiration. I haven't come across too many bands like us out here, but I feel we've always complemented a show line up with bands with singers as much as they compliment us for a solid night of music.
JASON: The Riverside, CA scene is filled with amazing artists and great friends. I think I would put Corona, CA and Lake Elsinore, CA in the same boat only because that's how I got to meet all the guys from "inthebackground" in its earlier days. I've looked up to these guys for a long time, even before being in the band, and was introduced to an entire network it feels like of people with the same drive and musical determination. Notable acts like "Swim ! Gustavo" & "Shaka D. Cakes" are just 2 of of an entire catalog, in my eyes, of great bands that I've gotten to share the stage with and have gotten to know as friends.
CHANTA: In Riverside and the rest of the Inland Empire, I'll see an instrumental band here and there. The "scene" is quite eclectic out here. You'll have your fair share of indie, post hardcore, alternative, tribute style bands, metal, rap/hip-hop groups, rockabilly. It's been a minute since I've seen a ska band though. The only instrumental acts that I could name off the top of my head near us and in Southern California (in general) would probably be The Illustrative Violet, standards, and Stage Kids.
DUSTY SOUL: Are there any instruments you wish you could master other than guitar, that you've always wanted featured in your music?
DILLON: Synths/Keys.
STEEN: Baritone sax.
STEPHEN: I've been digging into my Italian roots and recently picked up the accordion. I wish I did it sooner otherwise it may just have been a little sweetener on this album. Still a work in progress though.
JASON: I wish I was good at drums lol. If not that, I've never played a horn or wind instrument so something like a trumpet or French horn would be fun to learn.
CHANTA: Probably drums… I would love to try to record some songs where I have a synth and a laptop near me while I drum on a cocktail kit setup. Some Deantoni Parks (Technoself, Bosnian Rainbows, The Mars Volta) and Adam Betts (Colossal Squid, Three Trapped Tigers) kind of shit. Saxophone, flugelhorn, or trumpet would be a wild investment too. Kneebody, Alex Rose (the keyboardist of Minus the Bear), and John Raymond slay those instruments.
DUSTY SOUL: When in-person shows were still happening, what was the inthebackground's go to event after leaving the venue, post show? Is there a recurring spot the five of you would meet up to eat or keep the party going, or was it a "load the car and go to bed" type deal?
STEEN: Probably Dillon's house. Poker is always fun after a big show… Tough question, usually we chill at the venues we'd play at. We like to meet new people and catch up with friends just as much as we like to perform. In & Out is probably the food spot if it's past midnight!
STEPHEN: Food is always in the works after a show. If not that, a plethora of card games usually commence afterwards. Dillon's place is usually the meet spot before or after a gig. I'd say it's pretty rare the five of us actually just go to bed at a reasonable hour.
DILLON: Cuzzi. Poker. Beer.
JASON: Haha we always grab a beer or grab a bite post show. ALWAYS – 100% – when in town, we hit up George's Drive-In. And when out of town, the options grow. I think I'm the hungriest, literally, when it comes to food. I'm always talking about food. Always thinking about it. A foodie if you will. So anytime we have a chance to adventure somewhere new, whether it be for a show or whatever, I'm thinking about where we're eating after, all the time.
CHANTA: I would say it's a good mixture, depending on everyone's energy and schedules. Being in Southern California, we're always blessed with late night hotdog carts or taco stands. Hell, there was this one time we finished a gig at Casey's Irish Pub in Downtown LA and Steen had pizza delivered to us past like midnight. I was baffled! If we played a gig at a bar or a venue that served alcohol, we really didn't have to go far for post-set celebrations.
DUSTY SOUL: As a fellow live music connoisseur, how are you adapting to the loss of events? I've seen it affect the mental health of individuals directly in multiple ways from job loss to total isolation. How are you surviving, and what have you been doing to supplement your time?
DILLON: We're trying to gear towards releasing as much music as possible. There really is not much to do other than put your head down and write/track.
JASON: When I'm not writing or playing with inthebackground you can find me cutting hair. I'm a barber by trade and being in California, all barbershops and salons have either shut down temporarily or are out of business completely. It's all detrimental really but thankfully there are always silver linings. Cool thing is that my job allows me to cut hair wherever I am. When the first lockdown happened, I was in quarantine for about 2 months. Didn't leave the house or see the band. During that time I was able to mend a lot of things and slow down. The day to day can be tedious, so covid really forced me to take it slow and reflect. I'm grateful for it.
STEPHEN: I definitely can't lie and say I'm doing fine because whether it was with inthebackground or other groups, the majority of the music I did do was live shows. I truly miss the energy of the room, and seeing people bob their head and share a vibe for the night. Making this album could not have come at a better time though. Once quarantine hit, the final drum recording, mixing, and mastering kept us all busy with an end goal in sight. Looking back, this album kept me afloat and focused with a light at the end of the tunnel. At the least, this break in live shows has reconfirmed how much I still want to do music. To me that's enough to keep going.
STEEN: It's been tough, not only for musicians but for everyone. I've had a couple moments where I felt I was going mad, but at the same time, it's sort of nice being secluded a bit. I believe it makes room for doing things you might've put off for a while, like tracking ideas from the bedroom, or getting some solid practice in. We hope the music we made will help inspire people and see the many good things about life still.
CHANTA: Going to shows/concerts is such a communal experience. Losing live music and potentially losing important venues has been devastating to everyone. I am grateful to still be working remotely while finishing two records in quarantine (inthebackground's and solo). When I get all my work done I'm either on Discord, listening to music, playing Dynasty Warriors (embarrassing I know), or binge watching something in my living room. Here and there, itbg will meet up to jam and work on new ideas. I've recently been giving guitar lessons to a couple friends as well. Each day is a new day and that's just how you've got to tackle it during these times, despite how rough it is.
DUSTY SOUL: Groups like Dance Gavin Dance and Underoath, who both led very successful campaigns toward online streaming shows recently, were able to reap huge benefits from throwing full concerts on the internet. Where does that put smaller and emerging groups, who once depended on gaining attention as opening acts on larger events?
DILLON: I'm not sure, but this is definitely something we are looking into.
JASON: I think now's the perfect time to share to the world what you've been working on. Social media use is at a high I feel like, with many people being home, either out of work or on lockdown. "Finding the time" to get into new music is being considered even more this time around.
STEEN: I think the power of the internet is our biggest advantage. People like to share things, random people stumble across your page, a photo can create a fan, etc, etc. All we can do is put our best foot forward and hope that the work pays off. If not, we got vinyl that will end up in a DJ's basement one day hahaha and that's cool too.
STEPHEN: Luckily everyone is on their phones more than ever now. I believe the key is just creating as much as possible while still keeping up on an online presence. At this point you never know who will find you. Meanwhile, do everything to get ready for when shows do return.
CHANTA: It's hard to say. We all know that we can't rely on one thing to keep us afloat. That's where Patreon thrives. Through Patreon, I am able to support some of my favorite musicians. Right now that would be Circa Survive, Colin Frangicetto (of Circa Survive and Psychic Babble), and Kindo (fka The Reign of Kindo). The fact that artists are still pushing forward to release music this year without a tour takes a lot of guts. I suppose it's for sake of art and making people feel good during these times.
DUSTY SOUL: Before we tangent too far, let's touch back on The Dash Between Years. As wild a time as it is for mental health over the course of time spent creating, tell me what makes this release so important to you as a musician. What were some of the hardest parts of the creation of this record?
JASON: It's the first full length album I've been a part of. And the fact that we saw it all the way through and finished it, is an amazing feeling. Since a lot of these songs have been written and played for almost a decade, it was hard coming into the band trying to write a third guitar part to already "established songs". That was the main challenge, because I had heard these songs as they were for years and I felt weird at first trying to write to Dillon and Chanta appropriately without taking away from its original magic. Three guitars can be overkill sometimes, I can only hope I did my part well, I can only hope I did it justice haha.
DILLON: All logistical bullshit that has to be done prior towards release. A lot of mistakes were made but a lot learned in return. We haven't released any music in over 5 years now. This release will also be a big step forward regarding the overall tonality of our music.
STEEN: Woooo, there were some moments where say we'd disagree on a certain thing like the timing or tuning or a chord change, but the power of being in a group of 5 dudes is that we can always bounce ideas off each other. I appreciate that about this band. When there's less members, people can create cliques and maybe team up against each other. With a 5 piece, we can pretty much resolve an issue as quickly as it arises. All of us are pretty humble and open to change and new direction too, which really makes the creating process a breeze. Sometimes we can be stubborn with each other, but mostly we're always looking out for the best of the group. In terms of actual hard work, tracking our drums was a lot. We spent a whole 2 days working on the drums ourselves and ended up just re-recording them. We actually did a pretty nice job, but we just couldn't pass the opportunity to re-record them in a much better space. It paid dividends on the final mix. We pretty much tracked this album twice over until we got the final product, which sounds like overkill maybe, but it's what got us through the process. We kept working until it was like, "yeah, it's done!" Creating anything can take a mental and physical toll on you, but if it's what you live for, it's the most gratifying thing ever. Finishing things feels great, having goals and crossing everything off the list feels great. We set out really high expectations for ourselves when it came to tracking and creating this album, and we pretty much crossed everything off the list, and we feel damn good about it!
STEPHEN: We had started some pre production the summer of 2019 and we had a hard time just sticking to a schedule or plan at first. Once winter arrived with only half recordings of everything, we knuckled down and got some solid drum recordings. After that we were in it. We started what seemed like a 24/7 tracking loop where we all entered and left in shifts to work on the songs. Looking back it was a little taxing on us but none of us ever minded. We all pushed and leaned on each other when we needed to get things done. The only other problem that seemed so daunting to me at the time, was the idea of tackling three, yes THREE guitars on all of these songs to sit happily in a mix and not get in the way of each other. Our mixer Shawn was a wizard about it and really took the guitar sound above and beyond on tunes like Circle City and Budapest. As a musician this is actually my first official release with an original group. I've spent many years recording never seeing the project get finished. This release feels incredible because we were all 100% dedicated, start to finish, not even flinching at a national pandemic half way through the process. Yes, this was grueling and challenging at times, but I think we all learned a lot about ourselves, our music, and what it really takes to produce an album. For a first release I wouldn't have it any other way.
CHANTA: It's in the name, to be quite honest. Five years may not seem like much, but there were so many events that had happened in between that made five years feel like forever. We started off as an acoustic act, so the transition from acoustic guitars to electric guitars was eventually going to happen. It opened an avenue of myriad sonic possibilities. Within the five years, the lineup changes destroyed my optimism of the band even continuing. I was drained making the majority of this record. Monday through Friday, I would commute from Riverside to Orange County to make ends meet. If band stuff happened during the week, I just had to suck it up and make it happen. You would think compromises during the recording process would drive us mad, but I think it's quite the opposite – and this is coming from the most stubborn person in the group haha. A band is a family, a unit, a collective effort. Everyone has a chance to convey their thinkpiece and at the end of the day, that's all there is to it. We all just want what's best for the band. The fact that this record is finally coming to light is proof enough that we are in it for the long run. We love what we do and we hope others feel the same way about us.
DUSTY SOUL: What do you think changed the most in the five years in between your new album and your last release, Away With Words?
JASON: The line up haha!
DILLON: No longer being an acoustic trio and lineup and gear overall.
CHANTA: Most obviously, the lineup haha. Second to that is, again, our instrumentation. Dillon and I ran into so many issues performing with acoustic guitars that it was finally time to just start jamming on electric guitars. It made such a significant difference. We're constantly discovering new music to dig into and be influenced by as well.
STEEN: I wasn't a part of the original line-up but I've been friends with these guys since the early days, I was there when they released that EP. One day the cards just felt right and we joined up. I would say the biggest difference is that Away With Words was a typical debut EP, where The Dash Between Years is 2 years worth of work, writing, recording, re-recording, and adding new parts at our own pace. It feels like our little child, and we're super proud of it. It never felt forced or overdone either, everything came together real organically, and it's a once in a lifetime feeling.
STEPHEN: The biggest shift was the primary usage of acoustic guitars versus the electric sound on this record. I remember joining the band when they just recorded Away With Words. At this point I was writing and jamming my own ideas into their twinkly, tappy wonderland of folk and emo feels. What Dillon and Chanta would create with acoustic guitars and few delay pedals was truly magical. Then Dillon wrote DDLM and soon enough we were blasting audiences with breakdowns and screeching acoustic guitar solos. As the years went on the shift to electric was inevitable but I dig the heavier sound. I look forward to songs that may nod at the acoustic elements that once were though.
DUSTY SOUL: Considering all of the dedication and time spent getting to this point, what would you tell someone who is just learning how to create music of their own?
DILLON: Don't wait, create. We waited 5 years to release this album. Just get out there and get shit done.
STEEN: I would say "don't stop." Music is a language, and once you master it, you can take it anywhere, anyplace, anytime. The coolest thing about music too is the more you play, the better you get. A constant evolution that never stops! I love it.
STEPHEN: Surround yourself with musicians that will inspire, push, and support you. Enjoy the process of discovery and growth in your craft because it never seems to end. And most importantly, if you don't feel it don't play it!
JASON: Get curious about it and have as much fun as possible doing it. The worst feeling is forcing anything creative when you're not feeling it. Sure, some people will call it laziness or get frustrated at you and say some rude shit to you because you're not pumping out tunes or a new riff or whatever. But we're all human, and sometimes you just don't feel it. Sometimes you just don't feel like writing. When that happens take a break. However short or long. I have a great respect for the writing/creation process and maintaining that good standing within yourself and what's in front of you is a great way to put out true, genuine art that you can swear by.
CHANTA: Be patient. Go at your own pace. Be open to constructive criticism (if it's truly being given to you). Listen to as much music as you can. A while back, I read a quote by Alex Clay Hutchings that still resonates with me to this day. "Art is how we decorate space. Music is how we decorate time". All within time and space is just our livelihoods. How we go about our days. That's what The Dash Between Years is about. Lost time, moments that urge us to keep going. The people that are there and the people who aren't. After taking all that into consideration, I can guarantee one's journey into music will yield positive results.