When Asking Alexandria announced their latest record, Like a House on Fire, fans across the board seemed to have their guard up over where they believe the record was going to go. On one hand you had the fans of their metalcore roots, who didn't want to see the band they loved go in a new direction, and on the other, you had generally newer fans are always welcoming new sound and styles from the group. This seems to be a common issue with metalcore bands who steer away from their old sound after so many years, but Asking Alexandria always leaves people on their toes.
---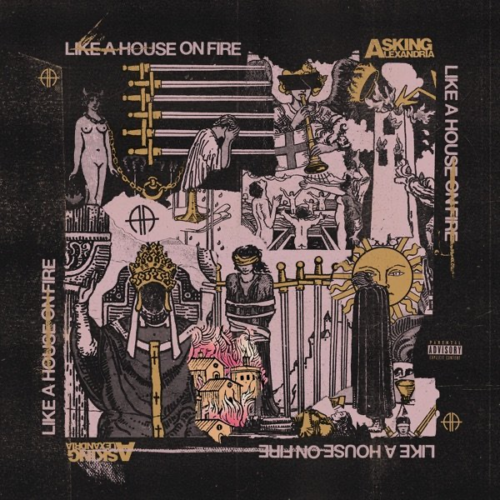 ​I dove into Like a House on Fire excited and ready to see what the band I admired so much during my teen years had come up to present themselves with in a new light. This is the bands second album released since the return of vocalist Danny Worsnop and their first not involving screaming or any heavier moment for that matter, unlike their previous releases. Asking Alexandria has even stated themselves that they really want to move past their metalcore standing and look forward new beginnings in their sound. And let me tell you…it works quite well for them here.
​The album really breathes a breath of fresh air into the band and it is incredibly fun to listen to through and through. From the catchy choruses in songs such as Antisocialist and Down To Hell to the air guitar worthy riffs in songs such as The Violence and to the wonderfully beautiful duet of I Don't Need You featuring Grace Grundy, this album has some really good standout moments that should be spotlighted. Now, I admit that I wasn't the biggest fan at first listen to some of the singles, such as the title track and latest single House on Fire, but after giving it another listen, I began to find myself enjoying those songs more and more.
If I were to choose some favorites to highlight off the record, I would look towards Antisocialist (the third single from the album and the fourth song on it) and the final song Lorazepam.
Upon hearing Antisocialist when it was released as a single, I was instantly enticed by the sounds of it. The guitar riffs that match the drums perfectly that just make you want to bounce to it, the moments where it's only Danny's voice and some fill beats to be heard, and of course the powerful chorus are all very memorable. If anyone is looking for a perfect introduction into the album and into the new sounds of Asking Alexandria, then look no further than here. I find myself coming back to this song repeatedly just to love the song even more each listen.
Lorazepam is a heavy hitter lyrically, as the title of the song is the name of an anti-anxiety medication. It talks of still feeling like trash even when life is going great and you're succeeding. This is something I feel most people can relate to, some days we all don't like what we see. This is a song where you can feel influence from other hard rock bands, and it isn't a bad thing at all. For me, my favorite part of this song is Danny's vocals through it. The verses flow really well and the chorus has some really wonderful moments for Danny. The aggression in his voice just feeds into the theme. This is a perfect ending to the album as the last 40 seconds or so are just Danny stripped down partnered with a piano fill in the background until that fades out and its just him.
I highly enjoyed Like a House on Fire and will gladly be listening to this album more in the coming weeks. Asking Alexandria moving past metalcore roots and going towards a new sound really isn't a bad thing and while I know the fans will continue to stay divided, the band themselves are happy with what they've released. You can find the album streaming on Spotify, Apple Music, Youtube, etc. and you can pick up a physical copy for the bands online merch store.
Verdict: 3.5 out of 5
Check out: Antisocialist, Down To Hell, I Don't Need You, Lorazepam
A New Direction: Asking Alexandria "Like a House on Fire" Album Review
In Conclusion
Asking Alexandria moving past metalcore roots and going towards a new sound really isn't a bad thing.
Pros
Strong Vocals
Catchy Choruses
Fun Guitar Riffs
Cons
Some tracks in the middle felt forgettable
Could have been a few songs shorter