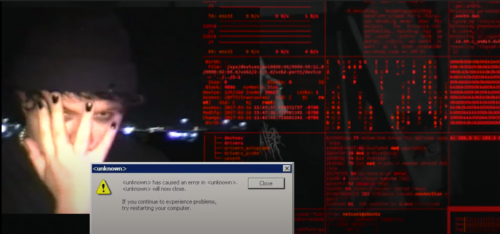 Earlier this week, we touched base with Philadelphia graphic designer and bedroom cyber death coordinator, Cory Swope, one of the last true creators of the 2009 scene kid-styled monster shirts, who does international work across the metalcore, deathcore, and electronica scenes. Here in this interview, we discuss what to expect at grind shows, his newest record that came out this year, and his inspiration, both musically and artistically.
_____________________________________________
Dusty Soul: I'd love to open with your interest in cyber death, an intricate and niche genre that has been slowly taking over in the grindcore and hardcore scene. Tell me a little about how you got here musically and what goes into the writing process of this style of music.
Cory Swope: I got my interest in "cyber death"(Cybernetic Grindcore/ Nintendocore) from early bands like Sky Eats Airplane (first album) and Genghis Tron. What really inspired me to write in this genre though were bands like Iamerror, Bubblegum Octopus, I Shot The Duck Hunt Dog! Musically, I can't really say to be perfectly honest, I just kind of open FL studio and play around. I'm super into the idea of if you're going to use a laptop to write music where the possibilities are limitless, why not make the most limitless sounding songs?
DS: Among your many talents, Portraiture, specifically, is among your most highly acclaimed. When you first delved into the atmosphere of monster artwork made as shirt designs that you produce for artists all over all the world, where were you drawing inspiration from?
CS: Thank you! I've always been super into horror and the macabre since I was a kid, in my early years I was inspired by H.R. Giger and Alex Pardee later in high school. When the scene was really alive, I became super obsessed with the art of Micheal Shantz, Chad Lenjer, Benjamin Lande. The whole concept of the playful illustrations underneath deathcore logos is something I'm just super attracted to, because I loved the way to re-packaged the music, and added some sense of playful/carelessness to it. At one point I used to own over 200 monster shirts in high school hahah i couldn't get enough of them.
You can view some of Cory's designs below, including one he did for us, on the bottom left.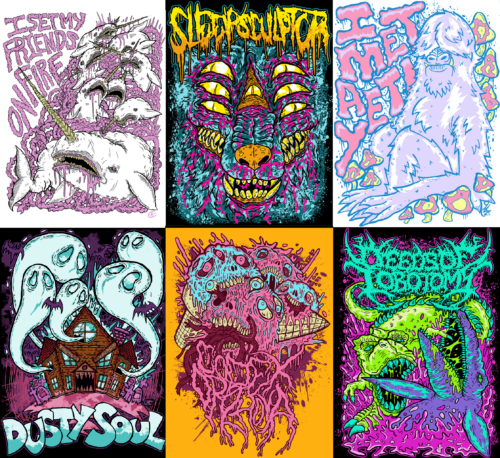 DS: Your newest release, which came out recently, "I Will Destroy You, Myself, and Everything I've Ever Loved" has a myriad of ranging sounds, but it isn't the first release you've done under this moniker. What changed the most in your eyes over the eight years you've been releasing songs as ZOMBIESHARK?
CS: I think production more than anything. I've always just written songs in FL Studio growing up. As I was writing more I've always wanted them elevated in some way. I was always inspired by my friend, Jeff Brown, who plays in A Scent Like Wolves. He was the one that really taught me a lot about audio/bedroom production.
DS: For any readers who have not been to a cyber death show before, what should they expect as a normal atmosphere from both the bands and the crowd?
CS: A lot of noise and a lot of confusion haha sometimes the crowd loves it, sometimes they don't and walk away. Cybergrind has been around for years but its rarely been replicated live because most cybergrind bands are solo artists, so its pretty rare to come by. Most times though if people have a good sense of humor, or just like to change things up, they have a great time.
DS: The new record has two features, Viscera, on track 3, and Blind Equation, on track 6. When you and Sam, your musical counterpart in ZOMBIESHARK, were first having thoughts on creation of this album, did you already know you wanted those two groups involved, or did it come later on during the writing?
CS: Well, James, from Blind Equation, is a good friend of mine who also writes amazing nintendocore, and I've been wanting to collaborate for some time, so I knew right away I wanted Blind Equation. As for Keyboards For Insects, it was one of the first songs I wrote for the album. I was talking to the vocalist of Dr. Acula, Rob Acardi, about first being on it. We tried for a year, but it didn't quite pan out, so during that time, Brandon (Viscera) was starting his project and put out a sick album called Annihilation. When the feature with Rob didn't work out, I hit up Brandon about it and I was honestly way more happy with it! Rob and I are, however, working on something for the future that you should look out for!
DS: Talk to me about how you and Sam met, and how your two minds came together to make this project continue to happen.
CS: We went to U Arts together! We were both in different programs, but we used to run into each other at parties sometimes, then eventually through just hanging out, we both had very similar tastes in metal and electronica, and we just kind of hit it off! I asked him if he would be down to help produce my album, he accepted, and here we are!
DS: When it comes to your new release, what side of it do you like the most as the writer? Are you more in love with your more peaceful songs like Puzzle Room, which features a light, instrumental ambiance, or your heavy chaotic songs, like Synthetic City?
CS: I love both! I feel like my music has always been a personification of the good and bad moments of my life. I've lived through a lot of very beautiful moments but also a lot of chaos and turmoil in my personal life, so I subconsciously I feel like I'm manifesting the sound of my existence in a way.
DS: If you were not writing cyber death, what genre would you be most inclined to be writing?
CS: Probably Jungle Drum and Bass or IDM, maybe even just avant-garde electronica/ plunder phonics. I've had a bunch of strictly electronica I've made in the past! I mostly listen to and enjoy a lot of different types of electronic music!
DS: How would you best explain the kind of music you make to someone who doesn't listen to anything on the spectrum of rock or metal at all, in the slightest aspect?
CS: Yelling over Mario sounds lmao
DS: To touch back on your artwork, you've worked with so many inspiring groups from newly emerging artists in the scene like Sleepsculptor to long time veterans like I Set My Friends On Fire. What advice do you have to artists, both young and old, who are struggling to find success in their craft?
CS: I think really knowing the industry you want to work in is key! I knew when I was in early high school I wanted to make art that could be tailored to music! I am very thankful and humbled to have been working with bands for nearly 10 years, some of which are my best friends, some of which are bands I've looked up too since I was 15! The biggest thing is to believe in your work, and if you truly love the stuff you do regardless of anything else, people will love and support it too.
DS: Where do you plan on going from here, now that you have an ever flowing list of clients and a brand new album that just came out?
CS: Well I think I'm just going to keep on grinding as I have been! I love being busy, especially when it comes to art. I think going into 2021 I want to really, really focus on on own brand as Illustrator/ Graphic Designer, I'm currently working with a friend on a clothing brand hopefully launching early next year! Before I get super settled into that I want to have some fun with ZS! I have a bunch of new singles written as well as starting the next full length, I plan on doing a few tours and play some kick ass shows!